Join the #ArtBizBootcamp 2019 to transform your career this year
Join this new and improved course that builds on previous years' successes. In 2019, we're bringing together artists and dealers to move forward in a changed art world.
The course is being crowdfunded, with approximately 75 creative professionals. Do YOU want to be one of them? Are you up for STEPPING UP and STANDING OUT in changing times? There are opportunities to be taken, and this course is set to provide the insight that you need to get you to the next level.
UPDATE as of Saturday, March 2nd: THE BOOTCAMP WILL BE RUNNING!
Personal message from Susan J Mumford, BSAA Founder:
"Crowdfunding campaigns can either be 'all-or-nothing' or 'keep-it-all'. While we were originally aiming for 100 participants, it looks like we'll be able to reach 75 attendees in total. And that's fine! We've decided to go for 'keep-it'all', as the course has now covered costs and is thereby viable for BSAA.
The motivation behind crowdfunding the course was to keep creative professionals active, moving and supported with a program of professional support that builds over the year. We're now set to support 15 times the number of original participants, which is staggering.
Better yet, the professions represented are varied, including: artists (73%), art dealers (15%), curators (5.7%), collectors (3.8%) and other (2%) - fantastic!
This course is set to inform and inspire folks, and I can hardly wait for our first LIVE webinar on Tuesday, March 5th. (A replay will be available for anyone who is unable to attend.)
Join Course Coach Deborah "Debs" Henry-Pollard, peers and myself by registering via this event page (scroll down).
"See you" online in webinars and in the private Facebook Group soon!
--Susan
Founder, Be Smart About Art"
BOOKINGS as of 1pm ET / 6pm UK on Sat., March 2nd: 47!
Grand total to access the course: £100 / $128 USD
Yes, seriously! We've turned our course model upside down to get a BIG number of people to attend while keeping it accessible in the midst of changing times. It's our way of implementing our own teaching, to make changes when the market demands them.
Course Leader Susan J Mumford and Course Coach Deborah "Debs" Henry-Pollard are committed to support talented creative professionals like YOU to keep moving forward. This model is viable for you, and it's viable for Be Smart About Art. Full circle.
Want customised support?
You can add a program of coaching with Debs, too. (Look out for this option on the registration page.)
FULL COURSE PROGRAM (click on schedule to open as a PDF in a new window):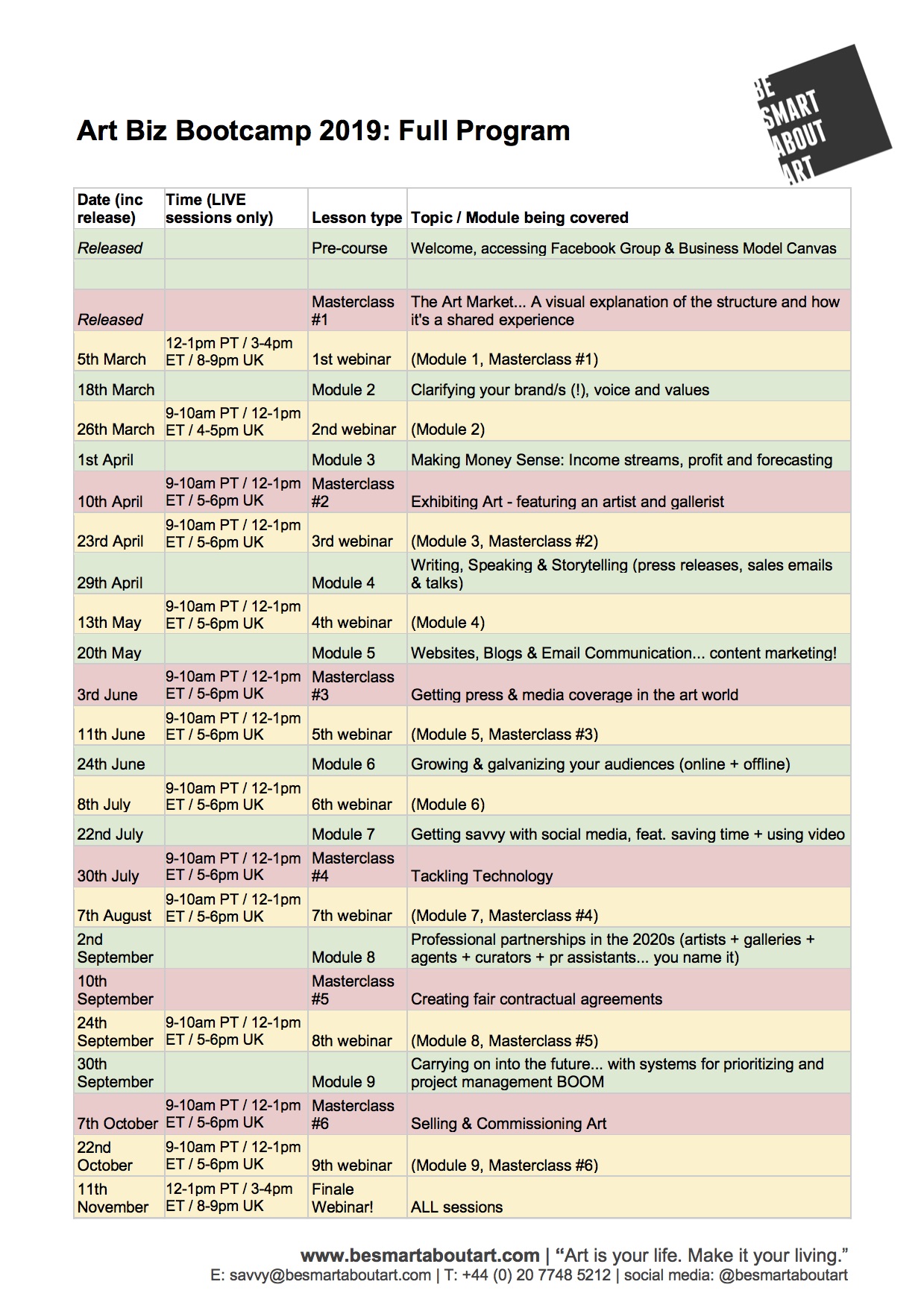 ________________
WHAT PEOPLE SAY:
"As a result of the course, I've set my goals for the whole of the year"
- Lydia, artist (London)
"Susan is great at quickly understanding the problem or concerns faced and offering up really helpful adice and practical suggestions... even with a busy family life"
- Jen, art dealer (London)
________________
FAQs:
Is the course only for professionals who are just starting out?
Absolutely not! It's been designed to serve the needs of creative professionals running their own micro enterprise today, as everyone is having to keep up with digital technology, changing working relationships and more.
Is the course only for artists?
Nope! While it IS for artists, it's also for art dealers, gallerists and other creative enteprises. EVERYONE is running a business, and it's also important that the two sides of that equation understand one another's challenges and opportunities. As for specialism, our niche is in the "art world", and the teaching will effectively support creative professionals across the board who have a mindset to learn!
If I can't attend all of the LIVE sessions, will I still be able to watch the sessions afterwards?
Yes, absolutely! This means you have other things going on which is part of life - and the modern art world :-). The full replays will be available in the online course platform accessible to all attendees (which is hosted by Thinkific).
Will I be charged as soon as this Eventbrite booking page reaches 100 bookings?
No. Our Accounting Manager, 'the lovely Paul', will send you an invoice and will confirm how you would like to pay (for which you have options).
If I also want to get coaching sessions with Debs, will that be charged upfront?
No. We expect most people to select to pay for coaching in monthly instalments - which we hugely support in mind of your own cash flow. We're here to help you achieve and/or maintain sustainability, and reflect this in our working practices :-).
________________
Have questions? Get in touch - we're happy to help.
Email savvy@besmartaboutart.com or call us (UK) +44 207 748 5212
________________
Get Social!
Media
Twitter Feed